Your Pain Pattern,
What Aggravates It,
The Underlying Anatomy
How to Get Relief,
and more…
---
How People Describe This Pain Pattern
People complain of an intense headache that makes their eyes hurt. When I ask them about other areas of pain, they will describe the headache near the top of their head but make a gesture to the back of their head beside the crown. They are usually focused on eye pain and say that it makes their eyes hurt as opposed to other headaches, which seem to pinpoint in the back of the eye.
They often complain about eye strain, associating the pain in the eye to visual strain. If they wear a hat, they will wear it loosely or complain that it creates a headache or makes their eyes hurt. One client refers to it as "crazy eyes." She wears a loose baseball cap all the time so that the bill blocks the light, but the hat is not tight enough to create a headache.
How You Activate and Intensify This Pain Pattern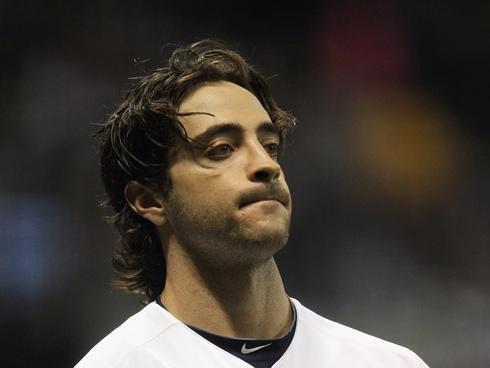 Ryan Braun shows off his occipitalis muscle.
This muscle shifts the hair back, lifting the eyebrows without wrinkling the forehead to create that look of reflective disappointment. You'd have to be a clown or a have a lot of disappointing conversations to create these headaches through over-use of the occipitalis.
This trigger point usually is activated through the pressure of a hat, a blow to the back of the head or as a satellite trigger point of the neck trigger points.
---
The Musculoskeletal Anatomy Behind Your Pain
Getting Relief on Your Own
Clinically Proven
Self-Care Recommendations.
Take a look at this post for what you may be doing to perpetuate this problem and some easy, effective strategies for getting rid of the pattern.
---
Treatment Notes for Massage and Bodywork
Better Bodywork
Through Shared Expertise.
This post has techniques, tips, treatment routines, and anatomy illustrations to improve the bodyworker's approach.
This site is undergoing changes. Starting in early 2020, we began improving the format. We are also adding more extensive self-care, illustrations, therapist notes, anatomy, and protocols.
We need your support.You can subscribe to our community on Locals. You will get special releases not seen on this site. We will be posting anatomy illustrations, treatment notes and sections from our manuals that are not found on this site. If you don't care to subscribe, you can make a one-time donation. Thank you for your support.
---
---
---
Weekly Featured Post
This patient had recovered from a frozen shoulder but developed shoulder pain at the end of his golf swing. More traditional neuromuscular techniques weren't working. Chiropractic wasn't working. Integrative Craniosacral was the right solution for lasting relief.
*This site is undergoing major changes. We are reformatting and expanding the posts to make them easier to read. The result will also be more accessible and will include more patterns with better self-care. In the meanwhile, there may be inconsistency in formatting, content presentation, and readability. Until we get older posts updated, please excuse our mess.