Client Description
There are 3 or 4 patterns that come off the trigger points in the temporalis. Each one has a band of pain that extends upward and associated sensitivity in the upper teeth. Like the bands of pain, the trigger points in the front create sensitivity in the front teeth and the trigger points in the back create sensitivity in the back teeth.
People complain of a headache as they trace their hands up and down the side of their head. Temporalis is always working to support the jaw while we are awake, so this headache is often constant and really bothersome. They may also complain of getting a headache when wearing a headband, hat or helmet. I have a particularly big head and would get these when trying on motorcycle helmets when I was younger. Probably saved my life. Mom would've killed me if she found out I had bought a motorcycle.
---
They usually don't complain about the tooth pain unless the massage therapist asks. It just doesn't seem like that is something about which someone should complain to the bodyworker. When I ask, they often say that they have sensitive teeth and that it is just because they're a little more sensitive than most people. They often remark that they use "that toothpaste" for sensitive teeth. When I ask them to get more specific, the headache pattern and sensitive teeth almost always match the referral illustrations.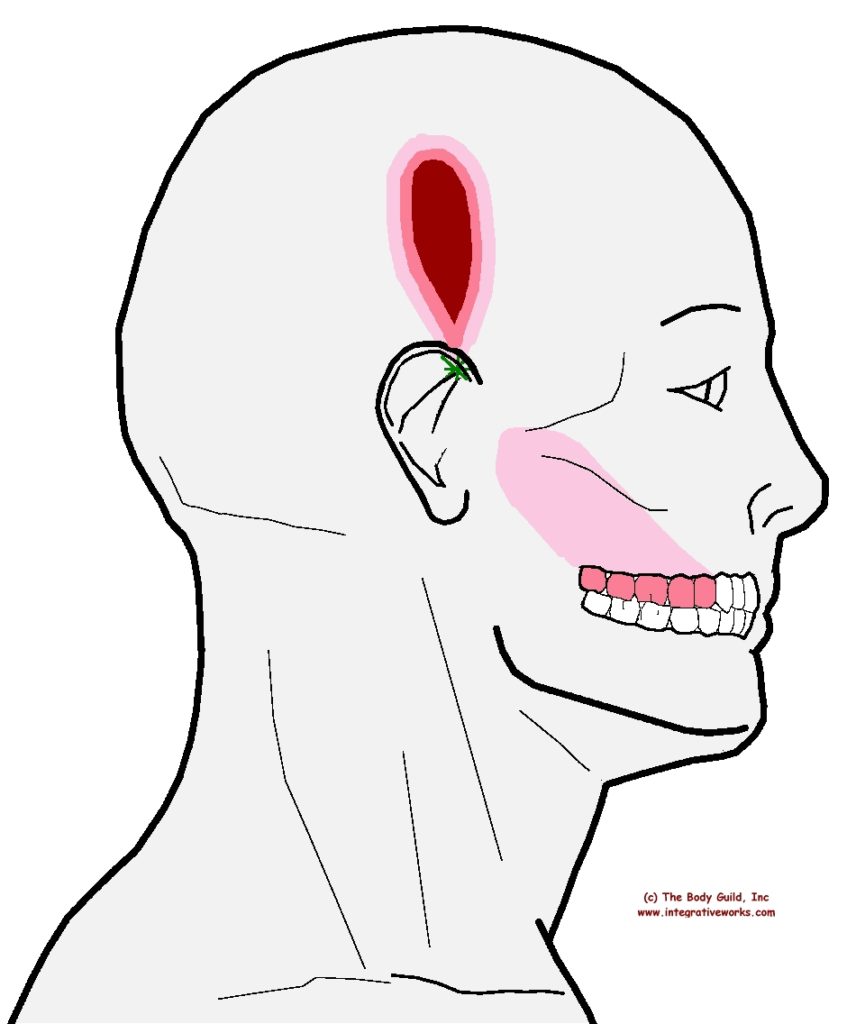 These patterns are often easy to elicit by pressing into the trigger point, even when the person has no complaints. The most common onset is from aggressive chewing or grinding teeth at night. One of the few times that this muscle rests is when you are sleeping with your mouth hanging open. People also complain of these lingering headaches from wearing something like a helmet, headband or headset. A bigger helmet may offer relief.
The patterns look a little different from person to person depending on the shape of the head and the position of temporalis, relative to the ear. There is a fourth pattern that extends up at an angle away from the ear and toward the back of the head. This pattern is less common and does not have sensitive teeth associated with it. I'll talk about that in another post.
Self Care
Here is a standard TMJ stretch routine. After stretching both sides, revisit the temporalis by icing over the ear on the symptomatic side and opening the mouth wide to stretch the muscle.
Ice-and-Stretch your TMJ.
Heres a simple protocol:
Ice the muscles shown in red.

Using Ice-and-Stretch or AIS guidelines, stretch the TMJ with these 5 motions:

Jaw protracted (underbite).
Jaw retracted (overbite).
Chin to the left.
Chin to the right.
Open mouth wide.
This consistently shows better results when both sides are stretched and the problematic area is revisited for an extra stretch afterward.
If you have ice available, the 4 repetitions of Ice-and-Stretch always seem faster, more effective and offer more relief than traditional AIS.
Therapy Notes
Temporalis seldom rests and requires a more complete treatment for lasting results. Cranial work offers quicker results with longer lasting relief. Once the cranial joints are released, focus on static pressure on the coranoid process. This is surprisingly effective. Save any work on the ropy fibers along side of the head until after wok on the tendon, if it is needed. This work should be lightly to avoid iatrogenic displacements in the sutures. Ice-n-stretch along this muscle is actually easier and less likely to produce irritation.
Support Integrative Works
to stay independent and
produce great content.
You can subscribe to our community on Patreon. You will get links to free content and access to exclusive content not seen on this site. We will be posting anatomy illustrations, treatment notes, and sections from our manuals not found on this site. Thank you for your support.
---
---
---
Weekly Featured Post
This patient had recovered from a frozen shoulder but developed shoulder pain at the end of his golf swing. More traditional neuromuscular techniques weren't working. The chiropractic wasn't working. Integrative Craniosacral was the right solution for lasting relief.
*This site is undergoing major changes. We are reformatting and expanding the posts to make them easier to read. The result will also be more accessible and will include more patterns with better self-care. In the meanwhile, there may be inconsistency in formatting, content presentation, and readability. Until we get older posts updated, please excuse our mess.