Client Description
With this trigger point, people complain about tension and a focus pain and tension at the base of their head. When I press for more detail, they may tell me about the vague pain and tension in their neck and in the shoulder. It is easy to feel the tender lump on the side of the pain about halfway down the neck.
People complain more about achy pain than restricted movement. It is This muscle doesn't create many restrictions in the mobility of the neck like levator scapula does, which creates a similar pattern. If you have a lot of stiffness, refer to these posts on stiff neck.
Often, I have a mild version of this while I'm seated at the therapy table. Gently lifting my head and using stretch #2 and #3 from the Self-Care Post creates a little shift in the mid-neck and immediate relief.
---
---
How You Activate and Intensify This Pain Pattern
---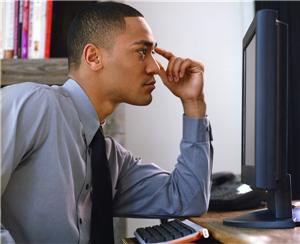 People are seldom aware of how this particular trigger point is started although many complain about doing too much computer work or sleeping in an awkward position.
Also, this is one of the patterns that are commonly treated after whiplash.
It is worth noting that there are many trigger points that have similar patterns of pain. People are usually clear about how those started and when it bothers them. Browse at this collection of posts on Forward-Head Posture and see if there is a trigger point that better matches your pattern.
---
The Musculoskeletal Anatomy Behind Your Pain
Effective relief starts with an understanding of the anatomy.
About the coloring of the illustrations…
Multifidi and rotatores are interspinous muscles that manage tension and balance between vertebrae.
---
Getting Relief on Your Own
Clinically Proven
Self-Care Recommendations.
This post has strategies for getting relief on your own. Explore how to change your activities, stretch and other strategies that relieve the pain associated with this trigger point.
---
Treatment Notes for Therapists
Better Bodywork
Through Shared Expertise.
This post has techniques, tips, treatment routines, and anatomy illustrations to improve the bodyworker's approach.
---
This site is undergoing changes. Starting in early 2020, we began changing the format of the posts to include more extensive self-care, illustrations, therapist notes, anatomy, and protocols. We'd love your feedback. We are adding posts and converting the old posts as quickly as time permits.
---
Please note that some of the product links in the posts are affiliate links. At no additional cost to you, I may earn a commission when you purchase through that link. I've personally used most of these products and believe are genuinely helpful. Some products aren't appropriate for me so I recommend it based on my experience with clients or the reviews online. The commissions I make are small and not worth promoting lesser products that would not produce suitable value. And please note, I do not advocate buying something that you can't afford or that you're not yet ready to implement.
Shortlink for this post: https://integrativeworks.com/?p=10152