Your pain pattern,
What aggravates it,
How to get relief,
and more…
---
How People Describe This Pain Pattern
People complain of nagging pain in the upper or mid-back, just inside the base of the shoulder blade. They have trouble determining what causes it or what to do for relief. They may also complain of sore ribs on that side, just under the armpit or fibrocystic breasts. They usually have a straighter upper back with shoulder blades that wing out instead of laying flatly against the back.
Often, they have tried many things to take care of it but have not figured out to get relief because the trigger point is not near the site of pain and in a muscle that is seldom addressed.
---
---
How You Activate and Intensify This Pain Pattern
This problem is ordinarily caused by forceful or prolonged retraction of the shoulder blade. The most common cause is resting on the elbows while working on a laptop, especially when bent forward or lying on the floor.
There are great examples in this pic. The gal on the right sits up straight but naturally pulls up her shoulders from leaning on her elbows habitually. The guy in the middle is similar but not even trying to sit up straight. The guy on the left over stretches the muscle by leaning on his elbows.
People also get this pattern from a new routine of push-ups or planks during exercise. One client said this started after more vigorous tennis. Another client fell while mountain biking and landed so that it pushed her shoulder back.
This problem may follow an illness that involves chronic or prolonged coughing. This muscle helps expand the chest and during labored breathing and may be present during vigorous exercise.
---
The Musculoskeletal Anatomy Behind Your Pain
---
Getting Relief on Your Own
Clinically Proven
Self-Care Recommendations.
There are stretches and exercises that can help. Look at this post for ideas that are clinically proven to work.
---
Treatment Notes for Therapists
Better Bodywork
Through Shared Expertise.
Review these clinic notes for a more complete approach to treatment.
---
This site is undergoing changes. Starting in early 2020, we began changing the format of the posts to include more extensive self-care, illustrations, therapist notes, anatomy, and protocols. We'd love your feedback. We are adding posts and converting the old posts as quickly as time permits.
---
Please note that some of the product links in the posts are affiliate links. At no additional cost to you, I may earn a commission when you purchase through that link. I've personally used most of these products and believe are genuinely helpful. Some products aren't appropriate for me so I recommend it based on my experience with clients or the reviews online. The commissions I make are small and not worth promoting lesser products that would not produce suitable value. And please note, I do not advocate buying something that you can't afford or that you're not yet ready to implement.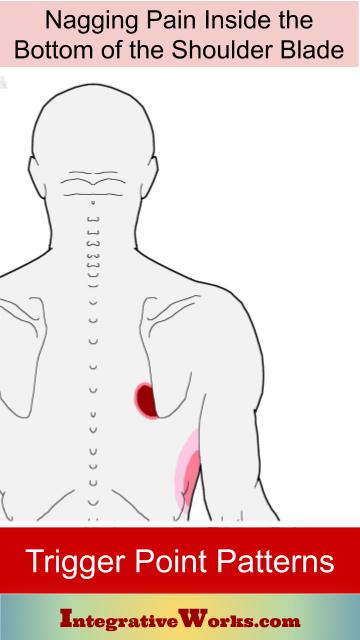 Shortlink for this post: https://integrativeworks.com/?p=3568