Semispinalis Cervicis
Semispinalis Cervicis connects the transverse processes of T1-T6 to the spinous processes of C2-C5 trapping C6-C7.
Origin – transverse processes of T1-T5 or T6
Insertion – Spinous processes of C2-C5
Function – Extension and some rotation of the lower cervicals
Wikipedia entry for semispinalis cervicis
---
This site is undergoing changes. Starting in early 2020, we began changing the format of the posts to include more extensive self-care, illustrations, therapist notes, anatomy, and protocols. We'd love your feedback. We are adding posts and converting the old posts as quickly as time permits.
---
Please note that some of the product links in the posts are affiliate links. At no additional cost to you, I may earn a commission when you purchase through that link. I've personally used most of these products and believe are genuinely helpful. Some products aren't appropriate for me so I recommend it based on my experience with clients or the reviews online. The commissions I make are small and not worth promoting lesser products that would not produce suitable value. And please note, I do not advocate buying something that you can't afford or that you're not yet ready to implement.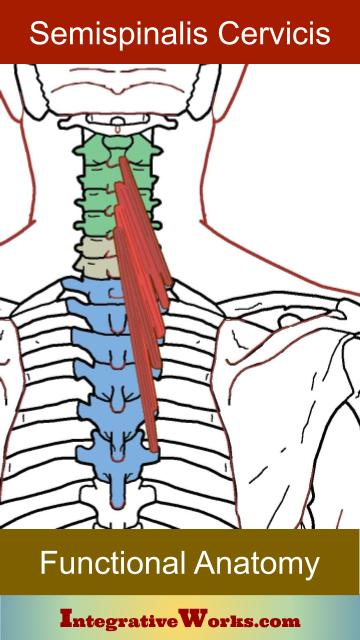 Shortlink for this post: https://integrativeworks.com/?p=4015